Enable out of the box fulfilment
See the fulfilment process in action
Emiza is a one-stop shop for all your warehousing and fulfilment needs. Being customer-centric and subject matter experts in logistics, we enable your business to grow rapidly and scale new heights. Our end-to-end fulfilment cycle, while simple and easily customisable is scalable and built to suit your individual needs.
Talk to our Ecommerce Expert
Our e-commerce expert will help us understand your business needs and operational requirements so that we can suggest a plan that works best for you.
1-2 Days
Choose your fulfilment locations
Our team will help you identify the best suited fulfilment locations that will allow you to optimise your delivery time and cost.
1-2 Days
Complete onboarding process with Emiza
Our client onboarding team will help you complete all regulatory compliances, setup your account and integrate your marketplaces, shopping carts and courier partners.
7-10 Days
Ship your inventory to us using our discounted shipping rates
Your supplier can ship inventory directly to our fulfilment centres or we can arrange the pickup for you using our discounted freight rates.
2-5 Days
Receive goods and perform Quality Check
Once we receive your goods depending on your requirements we perform either a visual inspection or a detailed quality check prior to in-warding your product into our system.
2-5 Days
Go Live and start selling
We will start to receive orders from your marketplaces and channels at the various fulfilment centres based on inventory placement.
Pick, Pack and Ship
Our in-house experts will skillfully pick, pack your orders as per pre-defined packing norms, while our shipping algorithm will automatically suggest the optimum courier partners for each order.
Tracking and Delivery
Our system will send your customer an email with a tracking ID which they can follow on your branded tracking page. Our team will monitor your shipments and non-delivered report to ensure that your client is contacted and delivery reattempts are done.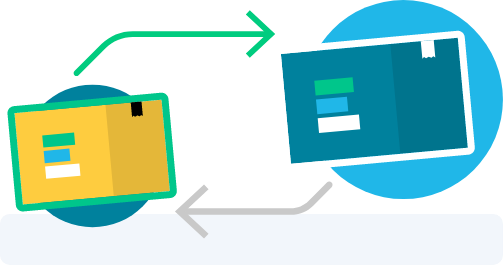 Robust Returns Management System
Our robust RTO (Return to Origin) and returns management system allows us to seamlessly manage returns and ensure your goods go back into inventory for further circulation within 48 hours.